2023
SUNSHINE SUMMER CAMP
&
SUMMER THEATRE ACADEMY CAMPS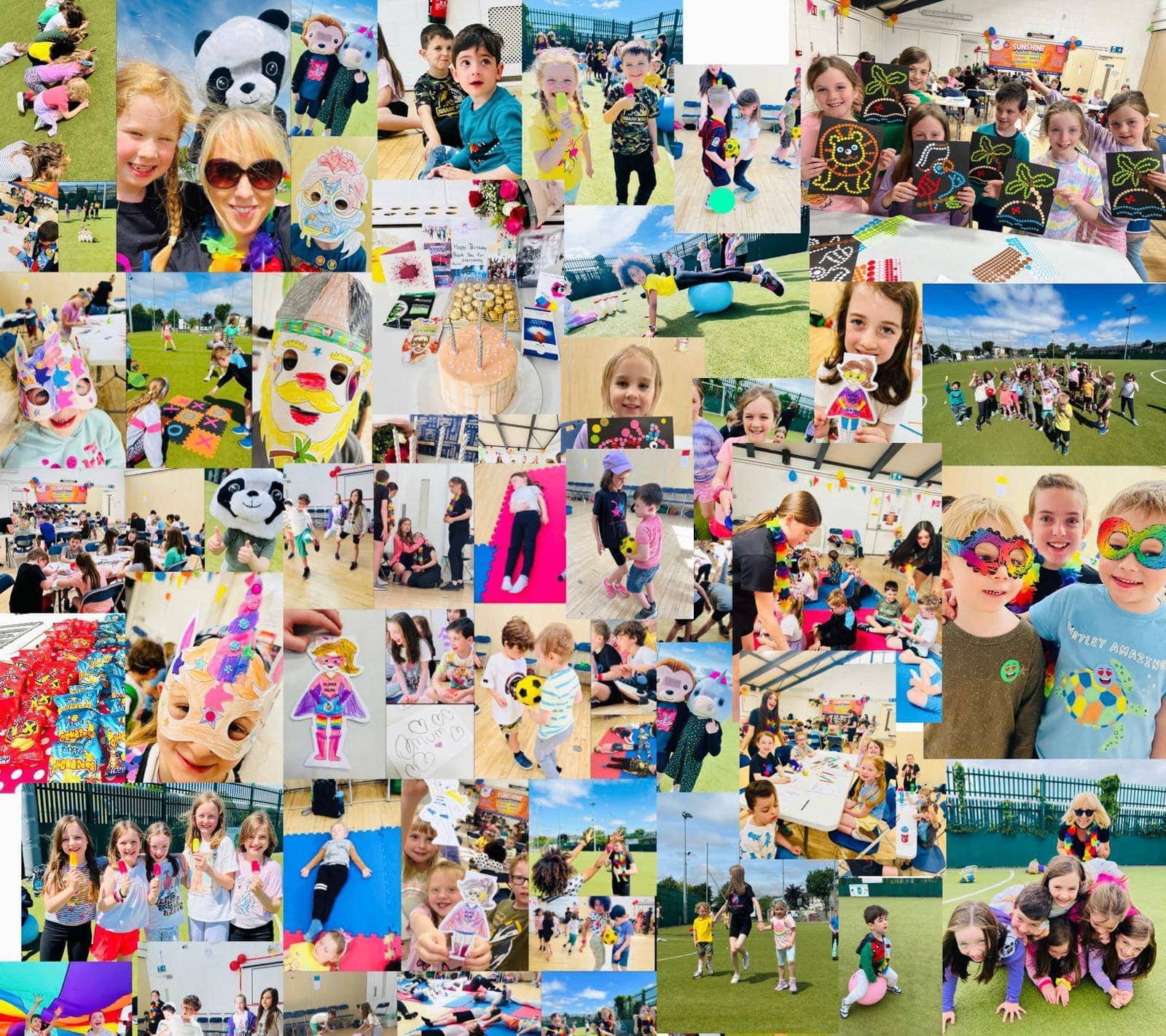 SUNSHINE SUMMER CAMP


MEGA All in 1 experience!
BOOK NOW, PAY LATER

Award Winning Summer Camps, back by popular demand!

The best Muti-Variety Camp around! Run by professional Teachers & assisted by team leaders, giving your child the attention they deserve while tailoring to your child's preferences.

FUN, FUN, FUN!
POKÉMON / ROBLOX/ LOL / DISNEY THEMES (for age appropriate teams)
DRAMA

DANCE

SINGING

GAMES & ACTIVITIES

CRAFTY ARTS & CRAFTS

FUN OUTDOOR SPORTS

COMEDY CORNER

QUIZTASTIC

TREASURE HUNTERS

SUMMER PICNIC

CHALLENGE THE LEADERS!

surprises, NEW ASPECTS!

BIG SCREEN MOVIE & TREATS PARTY (we supply)

DETAILS: 5 Days
WEEK 1 Date: Mon 3rd – Fri 7th of July '23
WEEK 2 Date: Mon 10th – Fri 14th of July '23
WEEK 3 Date Mon 17th – Fri 21st July '23
For Girls & Boys aged 4 – 11years (Divided into age appropriate teams with individual group leaders & Teachers, friends can be placed together)
Times: 9.30 – 1.30pm!
Fee: €115 (2 Siblings €220) for 5 days
Location: Castleknock Community Centre, Laurel Lodge & secure outdoor all weather Pitch.
BOOK TWO WEEKS! Most do! We change around some aspects to suit those doing two weeks. Keep them occupied during the Summer. There's something for everyone, FULL VARIETY equals happy faces. If children don't have an interest in a particular activity, camp leaders will tailor to their needs.
PRESS THE BUTTON AND FILL THE FORM, SIGN UP NOW, PAY LATER! CAMPS ARE 60%booked already!
Cecilian Theatre Arts is fully insured, First Aid Certified, Garda Vetted & follows Child Protection Policy. Please read Terms & Conditions below before enrolling.
CONTACT: 086 3185852
SUMMER THEATRE ACADEMY CAMPS
This Summer Series is bursting with activities! ACTING, DRAMA, DANCING HIP HOP/COMMERCIAL & FUN ACTIVITIES, STAGE CRAFT, STAGE & MOVIE COMBAT/ PROFESSIONAL SUMMER PHOTO SHOOT, TEAM QUIZ & MYSTERY GAMES. VISUAL ESCAPE CHALLENGES & MOVIE TIME TREATS INCLUDED and MORE TBA…..
New & existing students welcome 😊
LIMITED PLACES AVAILABLE!
Suitable for Girls/Boys aged 8 – 17 years divided into age appropriate categories/for certain aspects)
Locations & Dates: 5 Days
WEEK 2 Date Mon 10th – Fri 14th of July '23
Castleknock Community Centre, Laurel Lodge
Times: 2 – 5pm
€120
LIMITED PLACES AVAILABLE (All camps are almost booked out already!)
Contact: 086 3185852